Prophet Shepherd Bushiri will, probably, not forget South Africa not for what it looks like, but for the lemons he got from its streets.
When the Malawian boy migrated to South Africa in 2012 and made it extra-big in his founded Enlightened Christian Gathering (ECG) church growth and personal finances, he wielded strange authority and influence which attracted the attention of local religious figures, politicians and business gurus alike. They all wanted to understand "who is this new boy in town wielding this level of influence?"
Wait a minute: Bushiri's church grew so big that it attracted membership from all corners of South Africa and beyond. Victors from within and beyond South Africa were flocking to Tshwane Showgrounds in Pretoria, which became the busiest place in Gauteng. Gatherings, according to records on YouTube and the prophet's Facebook page, were taking three days a week (Monday, Friday and Sunday) during which multitudes of people defied both distance and darkness as they could congregate up to as late as 2 am starting from 6pm. Thousands of congregants, both rich and power, powerful or not, were literally kneeling before Bushiri in a show of reverence. Ministers, from across countries including South Africa, who wanted to meet him could literally wait for him on the waiting bays sometimes for hours until they could meet him and be attended to. Single-handedly, Bushiri established an organization with a complex system that exuded power and influence across the strata of South African society. That is a brief preview of the nature of influence that the Mzuzu-bled evangelist wielded in a complex foreign land.
But things did not end well with Bushiri. This, rather strange, power and influence attracted trouble that ended in snatching him, not only the wealth that he accumulated but also his freedom in that foreign land. A series of accusations ranging from rape to money laundering, fraud to other financial crimes were laid against him. A series of protests aimed at ejecting him out of South Africa if not collapsing his spiritual standing were mounted against him. Powerful politicians, competing religious figures and mercenary actors all rose in both chorus and rhythm against him. He, and his wife Mary, were in and out of Court for all sorts of cases both civil and criminal. He, alongside his wife, were at one point thrown into jail and kept there for some weeks before they managed to obtain a Court bail which South African Courts live to regret. He mysteriously escaped South Africa with that Court bail in his pockets and came back to Malawi. The South African authorities are now hopelessly fighting for his, and his wife's, extradition.
Revelations have now emerged exposing the first-generation agents who trapped Bushiri into trouble and controversy. One of them is his own body guard who was not only trusted but also feared. Shire Times has only managed to identify this former bodyguard as Daniel. According to Charles Farai, who also rose against Bushiri and scandalously defamed him on Facebook with an assortment of accusations, bodyguard Daniel was working in cahoots with one Colonel Phumla Mrwebi, a female Hawks official who as also executing the agenda of bringing Shepherd Bushiri down and out of South Africa. Farai, who claims to have repented and willing to die for the truth, has written on his Facebook page as well as giving a sworn statement in court, pronouncing Bushiri's 'innocence' in the series of accusations that earned him his court battles in South Africa.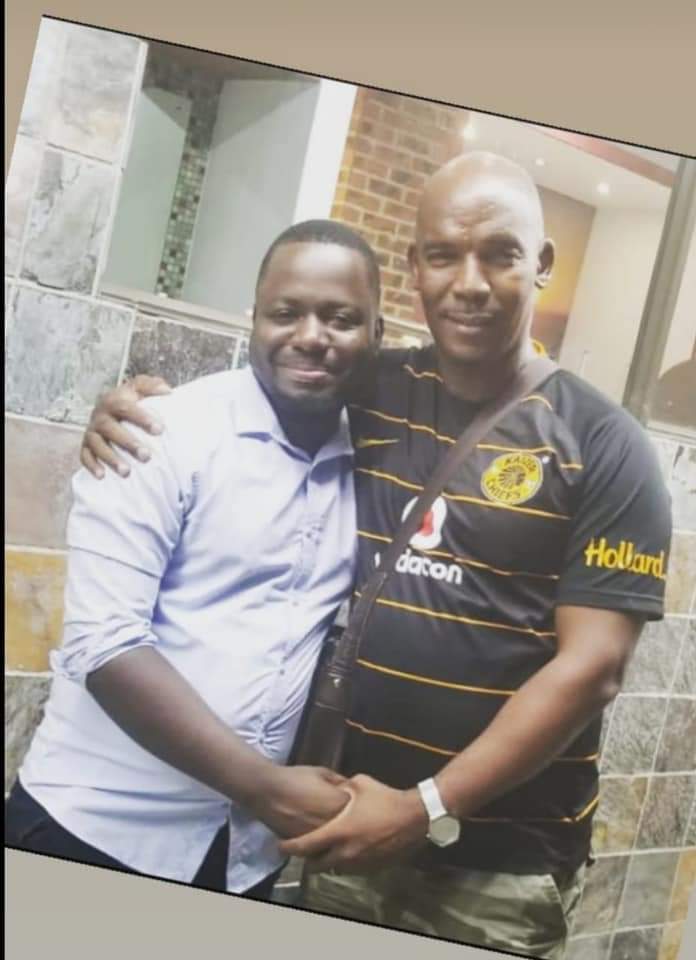 But who is this Charles Farai? In 2018, there were a series of anti-prophets demonstrations that were running under different hashtags including #BushiriMustFall#. Key actors in those demonstrations included Martins Antonio (originally from Angola), Charles Farai (originally from Zimbabwe) and Solomon Ashoms (suspected to be from Zimbabwe). Farai, according to his recent statements, was once a member of the ECG and rebelled against Bushiri after being approached by a police officer who was on a mission of implicating Bushiri. Farai narrates that he accepted to be an agent because he was offered money and protection. Soon after accepting this offer from this police officer, he was approached by one of Bushiri's bodyguards, Daniel, who briefed him details of a mission that he had to undertake. In no time, Farai was initiated into the cabal and started exchanging emails with Colonel Mwrebi from Hawks. One such emails between him and Colonel Mwrebi, which Shire Times has seen, was sent on Monday, 30th December 2019 at 09:21 in which Farai was sending a copy of his passport to Colonel Mwrebi for payment and other logistics.
According to his own statement in an Affidavit that has been made available to Shire Times, central to Farai's task was to recruit young girls, including under-ages, who would parade as victims of rape by Bushiri. The girls were promised huge sums of money that would be paid to them after successfully making Bushiri pay.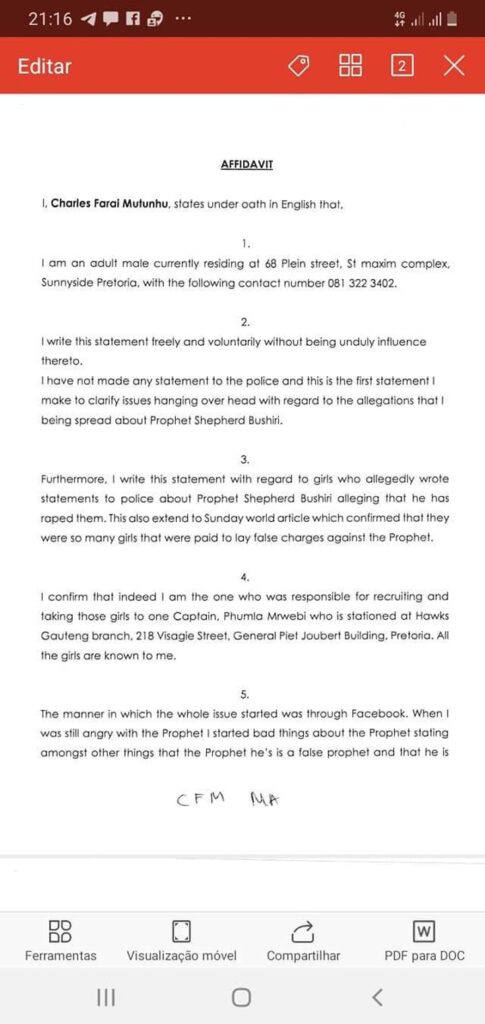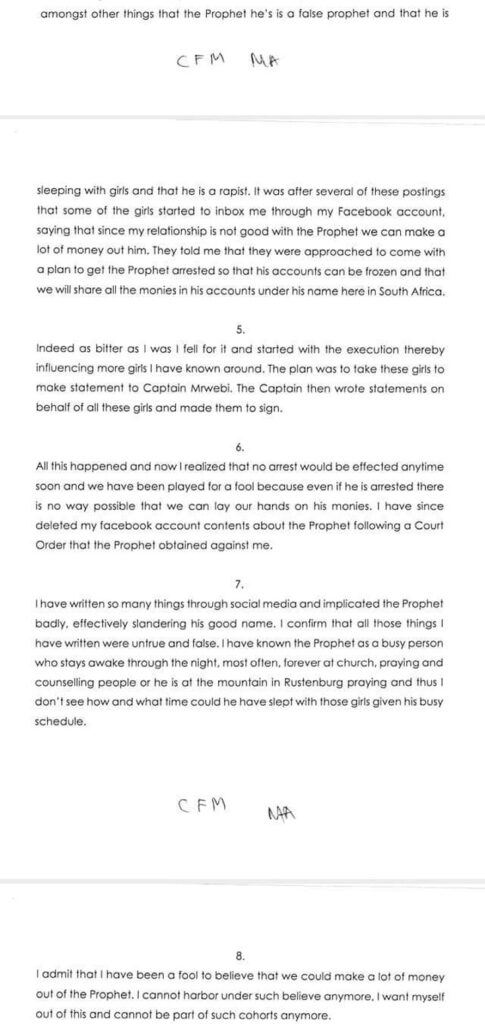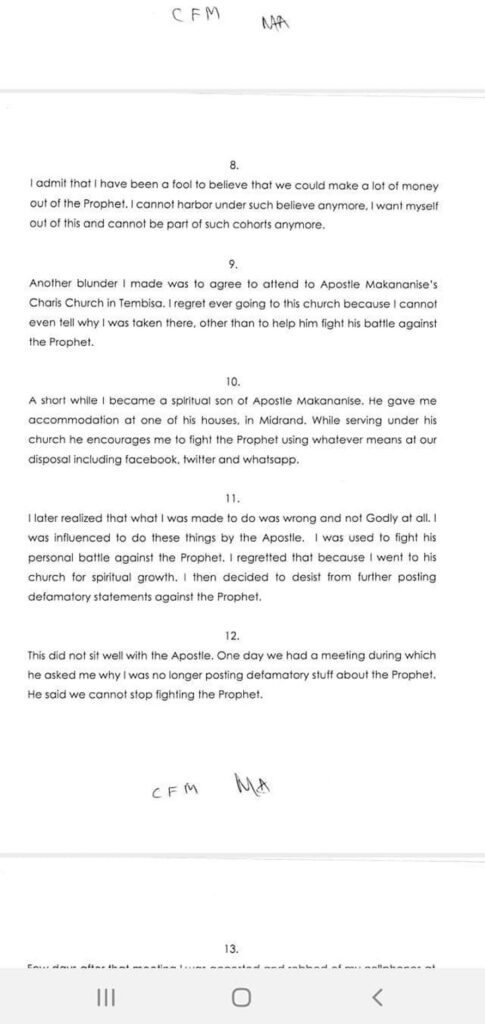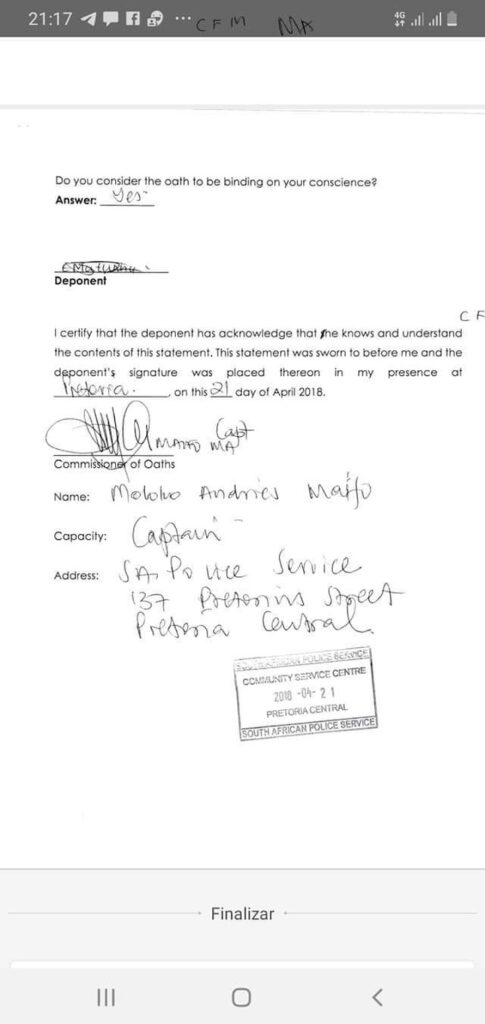 "I admit that I have been a fool to believe that we could make a lot of money out of the prophet. I cannot harbor under such belief anymore. I want myself out of this and cannot be part of such cahoots any more. Another blunder that I made was to agree to attend Appostle Makanani's church in Thembisa. A short while after becoming a spiritual son of Apostle Makanani, he gave me accommodation at one of his houses in Midrand. While serving under his church, he encouraged me to fight prophet Bushiri using whatever means at our disposal including Facebook, Twitter and Whatsapp. I later realized that I was made to do what was wrong", says Farai in his statement.
Another religious figure who was part of the network that was on a mission to purse Bushiri is named prophet Mbolo.
Bushiri's extradition case, which is before the Malawian Courts in Lilongwe, relied on the allegations which have been weakened by Farai's confession, giving a signal that Bushiri and his wife may not be extradited to South Africa.