Constituency Development Fund, which is key to devolved development projects in our constituencies, has been increased from K40 million K100 million. Some progressive Councilors and Members of Parliament who, together with Local Government authorities at District Councils, exercise control of these funds and do implementation of intended projects have a catalogue of developments to show for it.
Tax-free bracket has been increased to K100,000 commensurate to a campaign promise embedded in the MCP manifesto. This tax bracket shifting has significantly reduced tax burden on those earning less income. This is a fairness-oriented policy tailored to benefit low-income earners who were suffering tax-chop on their already minimum earnings.
Chakhazi bridge, which has been a song for three different administrations in a period of 15 years has been finally executed and completed by the Chakwera administration which promised Malawians that this bridge will be constructed during his reign without fail. The bridge is now in use.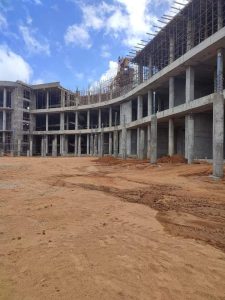 Mzuzu University (Mzuni) library progressing well and nearing its completion. Mzuni lost its library on 18 December 2015 to fire which left the building gutted down together with nearly 50 000 books and almost 100 computers. Since 2015, the DPP administration never cared to re-build the library or re-stock the lost study resources until its exit from power. Reliable sources inform that the DPP administration was not seeing eye-to-an-eye with the then expatriate Vice Chancellor, Dr. Robert Lidley, whose indigenous wife was affiliated to Joyce Banda and People's Party. The news has it that Dr. Lidley was appointed Mzuni's Vice Chancellor by the then President of the Republic and Chancellor of the university, Dr. Joyce Banda, in 2013 due to his wife's political relationship with her. When power changed to DPP, the DPP administration alienated the university through "economic sanctions" which saw the university suffering consistent underfunding. Thus the DPP was willing to punish the university students by not providing them a library and learning resources. However, soon after taking power, Chakwera embarked on building a library for the university and it is said that the library will be the biggest and modernized ever built in Malawi and other comparable parts of Africa.
Mzuzu Civic Offices which are of modern style and status are progressing impressively on their construction.
Mzuzu NOCMA to Dunduzu bypass road progressing very well
Mzuzu Youth Centre which has been an item of bare promise by the previous regimes, such that partriots residing in Mzuzu began mounting protests and demonstrations against lack of its implementation is currently under construction and progressing very well.
Ilomba road in Chitipa, another important road which has been used as a campaign promise feature by previous regimes without actually caring to fulfil, is finally and actually progressing very well in its construction under the Chakwera administration.
Kenyatta drive construction progressing very well.
Mzimba street construction in progress.
Crossroads to Kanengo construction in progress.
Lilongwe Bridge expansion in progress.
M1 rehabilitation 301 km in progress.
M5 road (also known as lakeshore road) rehabilitation in progress.
A near 1km dual carriageway road in Zomba has been completed and now in use.
Chichiri to Kanjedza road in progress.
Ndirande kachere road almost done.
Kasungu town roads rehabilitation in progress.
The building of over 200 houses for police officers completed with the building of other 301 houses at Police Headquarters in Area 30 underway.
The building of over 100 houses for Malawi Defense Force officers completed.
The building of over 50 house for Malawi Prisons officers completed.
Farmers are, for the first time, enjoying the best prices for their produce.
Rumphi / Nyika road in progress.
Mzimba / Mzalangwe road in progress.
Mtandire/Airwing road in progress.
This is just a brief recap (and not a conclusive list) of developments that have transpired and are transpiring under the presidency of Dr. Lazarus Chakwera and these have been done in a space of 3yrs. No any other multiparty President ever did this in the first 3yrs in office in Malawi. This entails that President Chakwera has set his own bar-raising record on delivery of development projects.