President Lazarus Chakwera has appointed a 39-year-old Reserve Bank Lawyer, Thabo Chakaka Nyirenda to be Malawi's Attorney General, replacing Chikosa Silungwe who was fired on 21 July this year.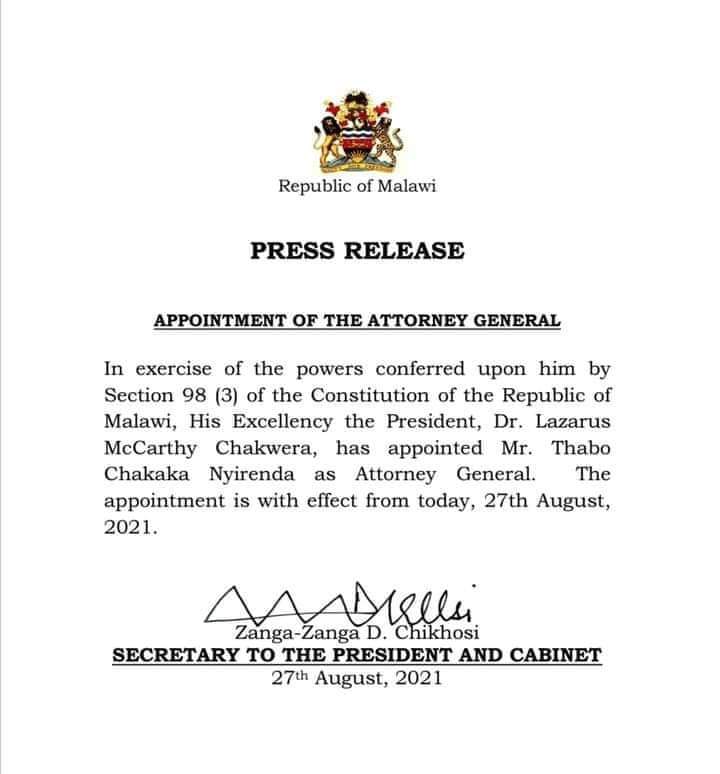 Chakaka Nyirenda, who has worked as Legal Aid Advocate at Legal Aid Bureau and  Senior State Advocate at Ministry of Justice before joining Reserve Bank in was delegated to work on a Christopher Makileni case.
Makileni, a former Local Government principal secretary (PS) is in court demanding K750 million for unfair dismissal from the government. The former PS commenced proceedings at IRC on January 26 2015, claiming that he had been constructively dismissed despite the fact that he never resigned from employment. He claimed compensation for loss of benefits including fuel, official motor vehicle, airtime, water allowance, electricity allowance, duty allowance as well as motor vehicle allowance.
However, investigations revealed that although Makileni making such claims, he was still on government payroll throughout the period he was not reporting for duty and his salary of K950 000 a month was still entering his bank account.
He was also entitled to extra K500 000 per month for fuel and K35 000 airtime. He was still benefiting from all these entitlements and had an official vehicle when he sued government for constructive dismissal.
The controversial settlement signed by Attorney General included a pension amount of K216 635 824, compensation for loss of use of motor vehicle amounting to K205 500 000 salaries amounting to K269 700 000 fuel amounting to K63 000 000.00 making a total of K754 835 824 (seventy hundred and thirty-five thousand eight hundred and twenty-four thousand and fourteen tambala).
Assuming Makileni was to be paid his salary for 27 months, he would have been entitled to 25 650 000 in salaries but the settlement indicates that he was to receive K269 700 000.
Four fuel, granted that the Makileni who would be retired would be entitled to fuel, for 27 months his 500 000-fuel allocation in seven years translated to `K13 500 00. The consent order granted Makileni K63 000 000.
Then, in April 2020, Makileni withdrew his claims. However, on July 22 2020, the Iindustrial Relations Court (IRC) endorsed a consent order which was purportedly signed by Makileni and the then AG Chikosa Silungwe. Makileni falsely stated before the IRC that the Office of President and Cabinet (OPC) had approved figures in the consent order whilst the OPC did not.
The consent order was executed under the belief that Makileni was no longer receiving his salary and benefits from the Malawi government when in fact he was still on government payroll enjoying salaries and benefits.
The Attorney General subsequently authorized the payment but immediately OPC raised eyebrows and refused to authorize payment.
In a letter titled RE: IRC Matter No55/2015: Christopher Makileni vs Attorney General, dated 1st September 2020, the OPC –through Deputy Secretary to President Dr. Janet Banda— wrote the Attorney General to submit clarification on the matter.
According to sources at OPC, Silungwe, failed to provide the legal clarification until he was fired.
"We refer to the above matter. Kindly avail to us a legal opinion that led to the signing of a consent judgment to retire Mr. Makileni at age of 60 before he attained the age. And whether other options were explored. We will appreciate your expedited response to map the way forward," wrote Banda.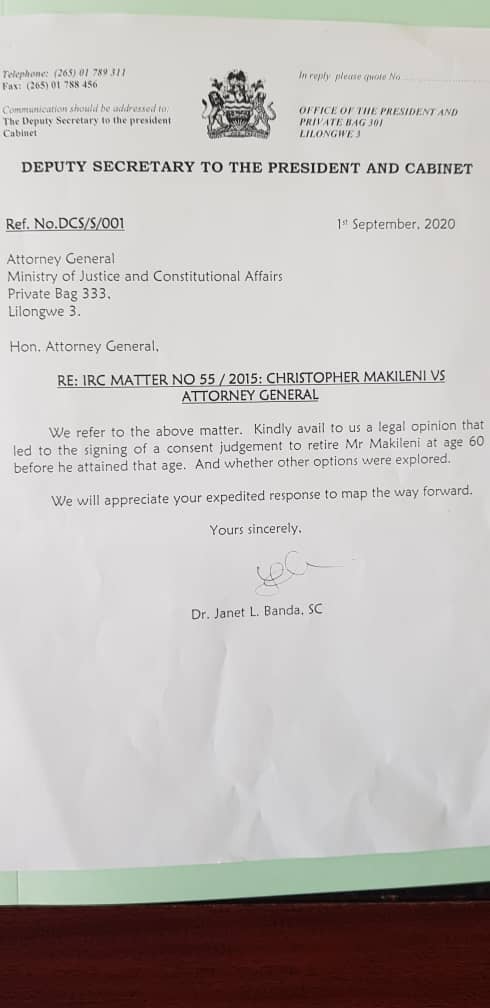 Contaminated by these implications against him, the then Attorney General could no longer objectively represent the Government on the case, leaving him with an administrative choice of delegating another lawyer to proceed with the case. It was then that Thabo Chakaka Nyirenda was delegated.
Makileni, through his lawyer Paul Maulidi, applied to the court that Secretary to the President and Cabinet, Zanga-zanga Chikhosi, Chancy Simwaka the Secretary to the Treasury, and Deputy Secretary to the President and Cabinet, Janet Banda, should be charged with contempt of court for failing to honour the consent order and directions for the actual payment.
The defence that was put by Nyirenda resulted into the court setting aside the consent order which directed the payment of K754 million. The setting aside of the consent order is pending the conclusion of the proceedings in which Government is challenging the claims.
On Maulidi's application to hold Mr Zangazanga Chikhosi, Mr. Chancy Simwaka and Dr. Janet Banda in contempt of court and get them arrested, the court in its ruling that was delivered on 6th August 2021, agreed with Nyirenda that it was an irregular and fruitless application and it was dismissed.
Nyirenda's appointment as Attorney General entails that he will now take up these matters in his full capacity as the Attorney General, shifting from the delegated duty.